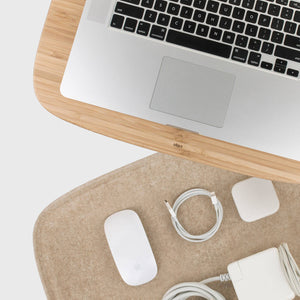 \
\
\
Being organised
and productive
never looked
so good
\
\
\
introducing...
LAPOD
No more balancing your laptop on your knee, battery indicator flashing, juggling charger and plugs, all while searching your bag for your earbuds to take that incoming video call.

LAPOD holds all your laptop accessories and peripherals in a cushioned storage pod organiser.

Access whatever you have stored inside your lapdesk without disturbing your work on top.

Use the cable slot to plug your laptop into stored portable drives, devices or power packs.
Functional
Always Ready
LAPOD's storage pod is big to hold whatever you need: chargers, cables, mouse, portable drives, USBs, tablet, stylus... or simply a pen, pad and your sunglasses because you've decided to work out in the park in the sunshine. 
Form
Designed for Humans Before Computers
LAPOD's gentle sweeping ergonomic form is the result of a considered design to fit you just as well as it fits your things.

Raising your work up off your lap reduces wrist angle and neck craning...
Simplicity
Access All Areas
You can single-handedly access whatever you have inside without disturbing whatever you have on top. 

Need to plug into portable drives or power packs - LAPOD's simple cable routing slot has you covered...
sustainable
Material Truth
Soft to the touch, yet sturdy and tough. Thin and lightweight, yet enduring and resilient. Colour-fast and textured yet completely washable... 
Seen around...